Wedding Wednesday: My First Bridal Show
This past weekend, I had a great trip up to Philadelphia/Delaware to have some one-on-one time with my parents that didn't involve a vacation or a holiday. We spent a day going around Philadelphia, seeing sights I haven't seen in years and on Sunday, drove back up to the city to the Sugarhouse Casino, where the Bouche Wedding Bridal Show was taking place.
I was honestly not sure what to expect for the show or how popular these were. We arrived right at 12:00 and there was a surprisingly long line to get in. I had just come with my mom and dad but others had brought an entire entourage to help them divide and conquer. We got up to the front and I received a special "I'm the Bride" sticker so the booths knew who to address questions to. We also go drink tickets (yum!) and a couple freebees. The booths would be open for 2 hours and then there would be the "seated portion" that included a fashion show and entertainment performance.
2 hours was barely enough time to see all the booths, even with getting there right when they opened. I would estimate that there were about 50 booths to see with tons of variety, including photographers, a dress shop, DJ/Entertainment groups, hair/makeup companies, and hotels. There were even booths about decorations, a booth where you could take selfies and photos of your engagement ring with props and this really cool trailer you could rent to dispense beer and wine.
You may say "You don't have to see all the booths, just the ones you are interested in" to which I say "On the Contrary!" At the door, they handed you a card with all the booth names on it and to be entered to win a grand prize, you had to get each booth to sign the card. I am not the kind of person that just walks up to someone to sign something and not at least give them the courtesy of listening to their spiel. The only booth that I did this with, more of a time courtesy for them, was a window treatment booth as I do not live in Philly and have no window for them to take care of.
I met a lot of great vendors, but as I am at the very beginning of my search, I was in Philly to see if there was a venue that intrigued me. Unfortunately, the only venue that had any information was the Casino itself, which is just not something that appeals to Mike or I.
After a couple hours, we were all directed to sit down by the stage. The owner of the show and a wedding planner came up and introduced themselves and then brought different people up on the stage to talk about different wedding planning tips. They had a jewelry company and life celebrant speak first, then the wedding planner came up and gave lots of tips for planning (I personally enjoyed the paper plates and post it notes for seating arrangement). After that, we had an excellent performance from an entertainment group that specializes in having both a DJ and vocalists as entertainment which was followed up by a fashion show.
The biggest cheer of the event? Possibly even bigger than the guy models? Whenever a dress came out that had pockets. Goodness did the crowd go nuts! Pretty sure I was the only person there that has zero interest in pockets in my wedding dress. They just don't seem very elegant to me. *Runs away from tomatoes being thrown by the reading audience.*
The event finished up with giveaways. This seemed slightly unorganized but it may just have been because of how many things they had to give away. I didn't come away with any prizes, but overall, I think this was a successful first bridal show!
Only one other small complaint - I expected there to be more food. The website said there would be "food, cake and bubbly", but there were only 2 cake booths with samples, a couple waiters walking around with trays that seemed to be empty most of the time I saw them and a donut booth where you could stand in line for 10 minutes to get a donut made for you, a la Duck Donuts. There was plenty to drink, a fully stocked bar to purchase drinks from, plus the specialty drink you could get with the tickets they gave you at the door. If they had snacks to purchase at the bar, I think that may have made a difference.
Here are few more pictures from our awesome afternoon!: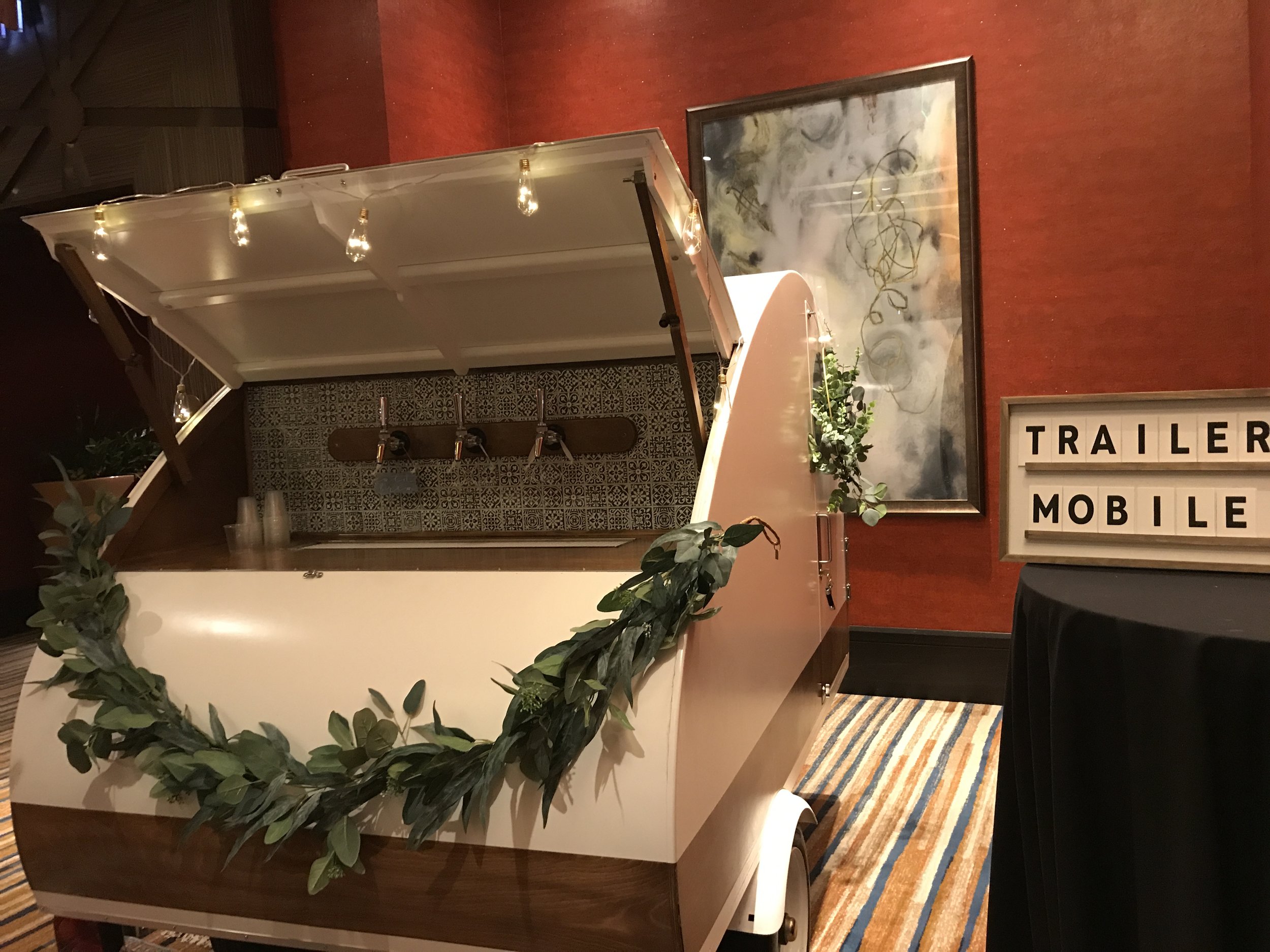 Now that I have experienced a show in Philly, my eyes are set to look for shows coming up in Florida and Chattanooga, our next two possibilities. Thank you to Bouche Weddings for hosting this show and giving me my first glimpse into this new bride-to-be world I am entering!
Have you been to a Bridal Show? What was your favorite take away from it?